5th gr. Teachers Lexie Banks & Erin Horvath Win PHM Impact Awards
Today (Friday, September 15, 2023) Penn-Harris-Madison's Learning Division awarded their first Teacher Impact Awards. New this year, the P-H-M Impact Award is being presented to educators who have helped their students achieve individual academic growth on their formative assessments over time. All P-H-M teachers across the district are dedicated to helping their students achieve personal academic success. The P-H-M Impact Award is shining the spotlight on those teachers who are showing the most significant overall student growth during the 2022-2023 school year (Round 1 of Awards). These teachers are prime examples of how our teachers and students achieve P-H-M Excellence!
The first Impact Awards were awarded to the 5th grade co-teaching team of Lexie Banks and Erin Horvath at Mary Frank Elementary School! With the help of Principal Christie Heerschop Assistant Superintendent Dr. Heather Short was joined by Superintendent Dr. Jerry Thacker, Dr. Lavon Dean-Null, Ryan Towner, and Executive Director of the P-H-M Education Foundation Jen Turnblom surprised Banks and Horvath. P-H-M is grateful to the Education Foundation for covering the cost of these beautiful awards. Click to see photos on Facebook.
Banks and Horvath had the two highest Math growth scores for 5th grade in P-H-M. Banks's Class went from 3% proficiency at the beginning of 2022 school year (Clear Sight), to 97% proficiency on the Spring 2023 ILEARN. Horvath's class went from 5% to 90% proficiency. Banks' class had a gain of 94% and Horvath's 85%! The average 5th Math grade gain across P-H-M 5th grade was 50%.
As a side note, Horvath's classroom was Dr. Thacker's room when he taught at Mary Frank!
Next P-H-M Administrators traveled to Discovery Middle School to surprise 7th grade Math teacher Emma Zerfas. Her students had the highest consistent 7th grade Math growth of all 7th grade Math teachers in P-H-M's three middle schools. Zerfas' students averaged 47% growth in proficiency; the
average P-H-M proficiency growth was 28%. Click to see photos on Facebook.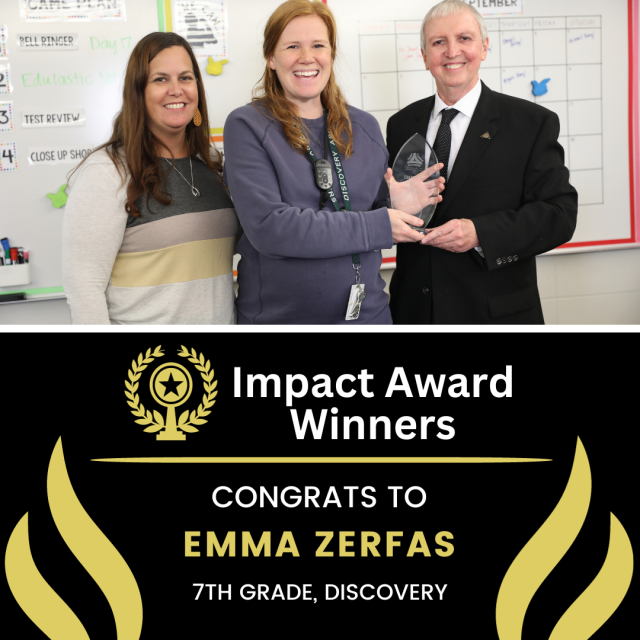 The Teacher Impact Awards are also a testament to the hard work and outstanding learning and comprehension of our students and the support they receive from their families. That's P-H-M's Triangle of Success!
This was only Round 1 of surprising teachers with the Impact Awards. There are many P-H-M teachers to recognize in the days, weeks and months ahead!
2023 Community Connections Fair to be held Oct. 7
The Penn-Harris-Madison School Corporation's ENL Services' is sponsoring the District's FREE Community Connections Fair!
Come check out what the Mishawaka, South Bend, and Elkhart communities have to offer to your families!
P-H-M is inviting area businesses who want to participate in the Community Connections Fair to sign up. Click here to request a table at the event.
The Fair will also include cultural performances from P-H-M students and families. Families wishing to sign up to perform, click here.
Bilingual interpreters will be on hand at the event to assist those families who need it.
Come out and enjoy the many cultural performances and student work that will be on display representing countries from all over the world!
Please join us! Click here to download and share the flyer.
For more information, please contact:
Rylee Jacobson
P-H-M Elementary ENL Coordinator
(574) 271-8598, Ext. 50913
rjacobson@phm.k12.in.us
2023 Community Tailgate
This year's annual Community Tailgate will be a great way to kick off the return of the Backyard Brawl between the Kingsmen and the Mishawaka Cavemen.
All fans are welcome, Cavemen and Kingsmen! There's plenty of food for fans on both sides.
Gates open at 5:00 p.m. You must have a ticket to the football game to enter. Once inside the stadium head down to the white tents in the South End Zone, near the Zolman's Tire & Auto Care South Concession Stand.
For $6 you get your choice of hot dog, hamburger or brat served with a bag of chips, choice of drink, and a cookie. Food tickets for the Tailgate are purchased at the Tailgate.
2023-2024 District Activities Calendar
The 2023-2024 District Activities Calendar was mailed to the homes of P-H-M families the last week of July.
The calendar provides key dates for testing, recess breaks, and school specific events (for the schools that provided the information).
You can click here to view a PDF copy of the calendar. You can also view a one-page of the 2023-2024 school calendar that shows the school year at a glance.
The P-H-M District online (Google) calendar is the most up-to-date. You can add this district and any school calendar to your own personal Google calendar.
Each of our 15 schools also maintains an online calendar that is updated frequently with the school's scheduled activities and event details. You'll need to visit your school's website to add that calendar to your personal Google calendar.
P-H-M Named 2023 Best Community for Music Education
Penn-Harris-Madison School Corporation was named among the Best Communities for Music Education (​BCME) in the country by the National Association of Music Merchants (NAMM) Foundation for the 10th year in a row!
Now in its 24th year, the 2023 Best Communities for Music Education program has recognized 830 school districts and 78 schools across the country for the outstanding efforts by teachers, administrators, parents, students, and community leaders and their support for music education as part of a well-rounded education for all children. This NAMM Foundation celebrated and recognized K-12 music teachers in school districts who found creative ways for the "show to carry on" despite schools moving online or to in-person settings where masks were required not only for student musicians and instruments.
In our elementary schools, music class is part of the regular curriculum following state standards. Students are instructed in both vocal and instrument classes. Beginning in 6th grade, P-H-M students at our three middle schools (Discovery, Schmucker and Grissom) have the opportunity to choose choir, orchestra or band as their music elective. Students at Discovery also have the option of choosing Piano Lab. Schools from elementary all the way up to Penn High School also perform musicals.
Penn High School offers the Fine Arts & Communication Academy as part of its unique academy structure. The seven academy design provides Penn students with relevant and meaningful coursework taught in smaller, supportive environments where each student is known well by his teacher and peers. Nearly a third of Penn's total 3,500 students are enrolled in the Fine Arts Academy with the majority being involved with music programs, either Choir, Orchestra, Band or another music program.
To qualify for the Best Communities designation, P-H-M answered detailed questions about funding, graduation requirements, music class participation, instruction time, facilities, support for the music program, and community music-making programs. Responses were verified with school officials and reviewed by The Music Research Institute at the University of Kansas.
Research into music education continues to demonstrate educational/cognitive and social skill benefits for children who make music. In a series of landmark studies by scientists and researchers at Northwestern University a link was found between students in community music programs and life-long academic success, including higher high school graduation rates and college attendance. In another study from the University, it was discovered that the benefits of early exposure to music education improves how the brain processes and assimilates sounds, a trait that lasts well into adulthood.
Beyond the Northwestern research, other studies have indicated that music education lays the foundation for individual excellence in group settings, creative problem solving and flexibility in work situations, as well learning how to give and receive constructive criticism to excel.
Support Staff Job Fair, Feb. 15, 2023
Looking for a job with flexibility around your student's school schedule? Do you know of a friend or family member looking for a great place to work?
We're hiring these positions:
Come out to our Job Fair for on the spot interviews!
Wednesday, Feb. 15, 2023
2:00 – 5:00 p.m.
Schmucker Middle School (Door B)
56045 Bittersweet Rd, Mishawaka

Click here to see the open positions that are accepting applications. If you can't make it to the job fair, fill out an application online today!
Indiana Graduates Prepared to Succeed Dashboard (GPS) Launches
Penn-Harris-Madison schools are focused on continuous academic improvement that results in academic success for all students.
Standardized testing, or summative assessment, is one measure of academic success, but it is not the only measure.
In pursuit of providing more comprehensive analysis and to expand upon the data provided by state standardized tests, the Indiana Department of Education publicly launched this week (Tuesday, December 13, 2022) the first iteration of the Indiana Graduates Prepared to Succeed dashboard, or Indiana GPS (click here to view the State Indiana profile).
The description of the Indiana GPS dashboard on the IDOE website states "Together, our mission is to empower Indiana's educators, families, communities, and employers with a learner-centered, future-focused dashboard that displays how our students are building the necessary knowledge and skills—in all grades and in all schools— through the Indiana Graduates Prepared to Succeed dashboard, or Indiana GPS."
The IDOE's goal is to support Indiana's goal to educate and graduate Hoosier students who can compete in the global economy. P-H-M supports this goal. Students whether they are going on into higher education, directly into the workforce or enlisting in our nation's military must be prepared to be successful in life beyond high school. Strong and valuable education of today's youth results in a knowledgeable and skilled adult Indiana workforce for tomorrow.
A student's access to early education is an essential first step in their academic and overall development. Measuring kindergarten readiness, as well as a student's PreK-2 literacy progress can provide key indicators of future success across the K-12 continuum.
We know that effective literacy skills play a vital role in helping students gain a deeper understanding of the world, explore topics in-depth, and seek credible information. At Penn-Harris-Madison, we have a well-articulated approach to teaching literacy based on the five critical pillars: phonemic awareness, phonics, fluency, vocabulary, and comprehension.
All of these components woven together help create a skilled reader. Our daily literacy block incorporates whole-group instruction, small-group (leveled) instruction, explicit phonics instruction, and vocabulary building.
Our teachers have been trained in order to deliver high-quality instruction that is supported through curriculum resources to meet the needs of all learners. Teachers are in regular contact with parents regarding their student's progress and instructional goals.
At the elementary level, a couple of the indicators the GPS dashboard measures are early literacy and math growth. See some of P-H-M's highlights are below; click here to view the full P-H-M GPS profile.
Percentage of PHM 3rd graders showing proficiency on IREAD-3: 88.3%

State Goal: 95% by 2027

Current State Status: 81.6%, 1 out of every 5 third graders in Indiana is not proficient in key literacy skills
WHY IS THIS IMPORTANT?
Students who pass the IREAD-3 assessment by grade three are roughly 35% more likely to graduate high school (as referenced on the GPS information webpage).
Percentage of PHM 6th graders meeting their individual growth targets on the math ILEARN: 41.9%

State Goal: 45.8% by 2030

Current State Status:

34.1% of Indiana sixth graders

are meeting their math growth goals
WHY IS THIS IMPORTANT?
Early mathematics instruction focuses on concrete concepts before transitioning to more complex ideas after grade six. Students who are meeting growth goals at this critical juncture have a leg up on future math and science learning.
While still in its first iteration, the goal of the GPS is to examine Indiana high school's graduation and post-graduation data with the goal to ultimately measure long-term success of each Hoosier.

Percentage of Penn Students who complete graduation requirements: 97.3%

State Goal: 95% by 2030

Current State Status: 86.4% of Indiana students complete their graduation requirements
Percentage of Penn Seniors who completed advanced coursework (Advanced Placement, International Baccalaureate, or Dual Credit) during high school: 75.4%

Current State Status:

59.5% of Indiana students complete advanced coursework

Percentage of Penn Seniors earning Indiana Diplomas above a General designation (Core 40 or higher): 98.3%

Current State Status:

90.1% of Indiana students earn Core 40 diplomas or higher
Percentage of Penn Seniors earning high quality college and career credentials: 11.3%.


Members of the Class of 2021 who earned either an Indiana College Core (ICC) or an Associates Degree was 11.3%–the graduates who completed one or two years of college were members of Penn's Early College Academy. In 2021, Penn High School ranked FIRST in the state with the highest number of students earning the Indiana College Core (ICC)! Beginning in the 2023-2024 school year, non-Early College students will also be able to pursue an ICC Certificate.

State Goal: 60% by 2030

Current State Status: 5% of Indiana students

earn a college or career credential before graduation, opening doors of future opportunity
WHY IS THIS IMPORTANT?
Increased education levels are positively correlated to labor participation, wages, and overall net worth.
COMING SOON:
The second iteration of the Indiana GPS dashboard – which will display all local data, including longitudinal and disaggregated data – is coming soon. Later in 2023, schools will be able to use the dashboard to view authenticated student-level data (not available to the public).
PreK-Grade 2 Literacy

– Percentage of PreK-Grade 2 students demonstrating progress in essential early reading skills from one year to the next.

Kindergarten Readiness

– Percentage of students demonstrating the skills necessary to be considered ready to start kindergarten.

Employment & Enrollment

– Percentage of high school graduates employed or enrolled 1 year after their expected graduation year. Goal TBD.
Click here to learn more about the Indiana Graduates Prepared to Succeed dashboard.
Click here to view the full P-H-M GPS profile (scroll to the bottom of the webpage to find links to all 15 P-H-M schools–11 elementary schools, 3 middle schools, and Penn High Schoo
New Short Circuits Sphero program partners 3rd graders & Penn Robotics students
What would make more than 200 elementary students and dozens of Penn High School students show up at school on a Saturday? It would have to be something pretty cool, and there's no doubt that P-H-M's new "Short Circuits" Sphero is cool! Click here to see the full photo gallery on the P-H-M District website.
Teams of third graders from all 11 P-H-M elementary schools and their Penn Robotics Team 135 coaches/mentors were excited to show off what they had learned about coding, programming, and robotics to their parents, grandparents and family members.
The idea for Short Circuits came about from a discussion between longtime, now retired, Penn Robotics Team 135 Coach Jim Langfeldt and P-H-M Education Foundation Executive Director Jennifer Turnblom.
Current Team 135 Teacher Coach Kyle Marsh worked with Michael Niemier — a Professor in Computer Science and Engineering at Notre Dame — under the umbrella of his National Science Foundation Research Experiences for Teachers (RET) grant, which funded Mr. Marsh's summer work to write the Short Circuits coding program. Co-developer and former P-H-M teacher Jim Langfeldt has also participated in Niemier's RET program.
During the 4-week after school practices, the Penn students have coached and mentored 3rd grade teams at all 11 elementary schools; one or two teachers at each elementary school are also involved helping to oversee the students.
During Saturday's celebration, the 3rd grade students will demonstrate for their parents and family members what they've learned, including programming the Sphero robots to maneuver through the Penn Robotics student built obstacle course.
Short Circuits is sponsored by P-H-M Education Foundation. Former longtime PHM Board Member Gary Fox, and his wife Tamera, generously committed to a $20,000 donation over four years to sponsor the program. $30,000 was raised at the PHMEF 25th Anniversary Gala to pay for Sphero kits for all the elementary schools.
Register Now for the 2020 Silver Mile Bubble Bash on Sat., May 16
Saturday, May 16
8:30 a.m. – Noon
Penn High School
Register online today! Early Bird Registration is available until Sunday, May 3 ($20 for adults, $10 for students)!
Do you like bubbles? Well, if you do, you'll enjoy the Silver Mile Bubble Bash!
Highlighted changes for this year's event:
Early start time, 8:30 a.m.
1.5 mile and 5K route options
Lower early bird prices: $20 for adults, $10 for students
Family Pricing: $60 for four or more (at same address)
Missed out on all the bubbly fun last year? Don't let it happen two years in a row! Watch the video and see how much fun you and your whole family will have …

The Silver Mile Run is the largest fundraiser for the P-H-M Education Foundation and all the proceeds go towards providing innovative P-H-M teaching grants, scholarships to students, staff development, and other corporation-wide initiatives.

Presenting sponsor Saint Joseph Health System will offer free health screenings including body mass index and blood sugar! Other area businesses will also be on hand to showcase health and fitness related activities, resources and services.

After a fun day, leave with great bargains purchased at the Silent Auction. The P-H-M student talent showcase is always a crowd pleaser. Last year, the student groups included Horizon Show Choir, Bittersweet Cardio Drummers, Elm Road Jumping Eagles, Meadow's Edge Dancers, and Penn High School Dancers.

Choose to walk or run the 5K or take a shorter loop. This exciting untimed race welcomes runners of all experience levels while blasting through foam bogs and fun spirit stations along the course.

The Silver Mile Bubble Bash is a chance for P-H-M families and local community members to get together and show their support for excellence in education in all P-H-M schools. Proceeds are returned to P-H-M schools by awarding innovative teacher grants, scholarships to students, staff development and other corporation-wide initiatives.

Click here to take advantage of early bird registration and for more information on the Bubble Bash.

document.addEventListener( 'wpcf7submit', function( event ) { var reference = Date.now().toString(36) + Math.floor(Math.pow(10, 12) + Math.random() * 9*Math.pow(10, 12)).toString(36); jQuery('input[name="wpcf7cfpdf_hidden_reference"]').val(reference); }, false );