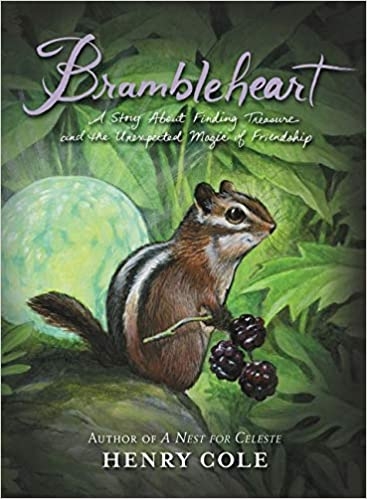 One Book, One School
Posted on February 28, 2022



Looking for something new to do at home? Frustrated because there is nothing good on TV? Great news!! It's One Book, One School time!

Starting March 1 – 31st, we will go on adventures with Twig, a charming chipmunk, who's trying to figure out his future in Hill society, staying true to himself he makes new friends along the way. Every family and staff member will be receiving a copy of this year's book, Brambleheart, A Story About Finding Treasure and the Unexpected Magic of Friendship by Henry Cole.

This will be another fun adventure in reading! There will be a book reveal event, scheduled readings, optional at home projects, discussions, prizes, and more!

Click the links below for the all your resources:

"One Book, One School" is an initiative that strives to bring together schools and families through the joy of reading. We want to provide an environment where our imaginations are set free through literature. By choosing one book that spans various reading levels, both students and staff will come together and share thoughts, ideas, and a passion for reading.

While projects and reading will be done at home, there will also be reading and discussions taking place in the classrooms. We encourage all families to use this opportunity to come together to read and carry on discussions about the story. You can even work together on some of our projects. While the at home activities are voluntary, they offer a way for students to incorporate their creativity into the story.

"Sometimes the things we want and the things we love get tangled up in our hearts like bramble when we try to do what's right" It is our hope that this magical adventure will inspire individuality, teamwork, forgiveness and friendship. So, Mary Frank, ready, set, read!
Reading Schedule
March 1 – 4

Tuesday Kick-off/book

Wednesday pp. 1 – 20

Thursday pp. 21 – 32

Friday pp. 33 – 46

March 7 – 11

Monday pp. 47 – 56

Tuesday pp. 57 – 66

Wednesday pp. 67 – 78

Thursday pp. 79 – 88

Friday pp. 89 – 98

March 14 – 18

Monday pp. 99 – 108

Tuesday pp. 109 – 118

Wednesday pp. 119 – 130

Thursday pp. 131 – 142

Friday pp. 143 – 152

March 21- 25

Monday pp.153 – 162

Tuesday pp. 163 – 170

Wednesday pp. 171 – 182

Thursday pp. 183 – 196

Friday pp. 197 – 206

March 28 – 31
At Home Activities
The activities listed below are the at home activities that follow along with our book. These activities are completely voluntary, but should your child complete and return them by Tuesday each week, their name will be entered into a drawing for a prize! If your child completes all four of the activities, they will be entered into a special drawing at the end! All projects are due to the classroom teacher.
March 5-6
Dragon eyes coloring pages

:

Click here

for the template to use.
March 12-13
Writing activity: If you found an egg that hatched a baby dragon, how would you care for it? Illustrate a picture of your dragon and its home as well. Click here

for the writing prompt.

PreK & K:

Draw a picture of you and your baby dragon. Don't forget lots of background details so we know where it lives!
March 19-20
Build a sundial:

Using recyclable materials found around at home construct a sundial of your own design that tells the time of day. One that Twig would be proud to turn into Professor Burdock!
March 26-27
Dress the chipmunk for a job: Click here for the template to use.
In addition, we will also be having spirit days.
March 3 – Dr. Seuss Day, dress as a favorite Seuss character or in Seuss attire Mar 10 – Dress like a Teacher Day
Mar 24 – Career day, dress for your dream job
Mustangs Give Back Activities
During the One Book, One School event, our students and staff have established an amazing tradition of giving back to our community. In this year's book, we meet Twig, a chipmunk, and his friend Lily, a rabbit, who live in the forest. In our community we have beautiful natural areas where many forest animals live. We are happy to partner with the St. Joseph County Parks. This department includes four parks: St. Patrick's County Park, Bendix Woods County Park, Ferrettie/Baugo Creek County Park and Spicer Lake Nature Preserve. Feel free to click here to check out their website for information. These parks are beautiful natural areas to enjoy and they also provide nature programs and outdoor activities. We will be collecting items all month for the St. Joseph County Parks. Please, feel free to send items in with students. The following is a small list of ideas of what the parks need for activities and programs:
8-ounce non-Styrofoam hot cups

Band-Aids

Black oil sunflower birdseed

Bottled water

Chenille craft sticks (pipe cleaners)

Child-size yarn winter gloves

Dish soap

Gardening/work gloves

Glue Sticks

Insect repellent

Tins of coffee and hot chocolate

Sharpie markers (all colors)
Washable markers
Wire mesh pasta strainers (for pond scooping)
Last Modified March 1, 2022