2019 One Book, One School
Posted on January 30, 2019


---
Mary Frank, are you ready to read ?!? From Friday, February 1- Friday, March 1, we will come together for one common goal – TO ENJOY READING! Every family and staff member will be receiving a copy of this year's book, "The One and Only Ivan."
There will be a fun kick-off assembly, scheduled readings (with an audio recording for younger students), optional in home projects, discussions, prizes, and more!
Click the links below for the all your resources:

"One book, one school" is an initiative that strives to bring together schools and families through the joy of reading. We want to provide an environment where our imaginations are set free through literature. By choosing one book, that spans various reading levels, both students and staff will come together and share thoughts, ideas, and a passion for reading.
While projects and reading will be done at home, there will also be readings and discussions taking place in the classrooms. We encourage all families to use this opportunity to come together to read and carry on discussions about the story. You can even work together on some of our projects. While the at home activities are voluntary, they offer a way for students to incorporate their creativity into the story.
It is our hope that everyone will not only fall in love with Ivan and Stella, but will fall in love with reading as well! Now Mary Frank, let's get reading!
---
Audio Recording
Click here for the audio book of "The One and Only Ivan." You can listen along as Arian Peter narrates the book.
Below are the times in the recording that correspond with the pages scheduled for you to read each week: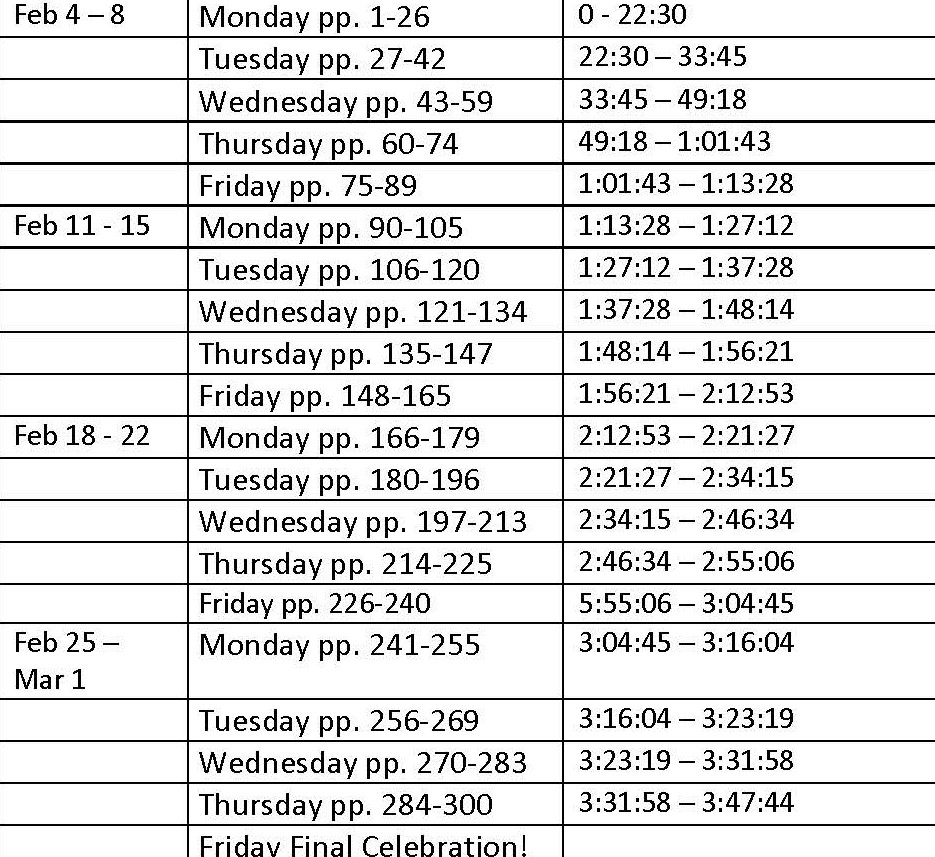 ---
At Home Activities
The activities listed below are the At Home Activities that follow along with our book. These activities are completely voluntary, but should your child complete them, their name will be entered into a drawing for a prize! If your child completes all four of the activities, they will be entered into a special drawing at the end! All projects are due to your classroom teacher.
Feb. 2 – 3
Coloring Challenge: Click the link to download and print the two coloring pages. Choose one out of the two choices to color.
Feb. 9 – 10
Writing/drawing activity: If you had a pet gorilla, what would you do with him? Write a paragraph on the given topic. If drawing is more your thing, draw us a picture!
Feb. 16 – 17
Design a billboard for Ivan: Click the link to download and print the worksheet of a billboard you might see alongside the road. Design one for Ivan!
Feb. 23 – 24
Design a poster for an endangered species: Choose an endangered species and design a poster for them. This can be any animal you choose, it doesn't have to be a gorilla. Find out some interesting facts about the animal, and help us become more aware!
---
Mustangs Give Back Activities
During the One Book, One School event, we will be doing some activities to give back not only to our community but internationally as well! We will have two initiatives:
Mustangs adopt a gorilla & an elephant! Our school will be raising money to adopt a gorilla and an elephant. These are the two iconic characters in our book, so we would like to honor them. We will be supporting The World Wildlife Foundation. They work to "conserve nature and protect the diversity of life on Earth." In the coming weeks, students can contribute to these worthy causes. Each week, the top two class that raise the most money will not only have bragging rights, but will be keeper of the gorilla and elephant for the week! Students can contribute $.50, or whatever their heart desires, during these drive days to help give back to two species that don't have a voice of their own!

-Feb 8: Pajama Day
-Feb 15: Crazy Hair Day
-Week of Feb 18 – 22: Coin Wars
-March 1: Stuffed Animal Day
*You can also click here to view these activities listed on the Calendar of Events

Mustangs collection for Potawatomi Zoo: Our school's Mustangs Give Back club would like us to contribute to animals right here in our community. We have partnered with the Potawatomi Zoo and will be collecting much needed items for the animals. Please click here to see Potawatomi Zoo's wish list and see what you can donate.
---
*Adobe Acrobat Reader is required to view, download and print the pdfs on this page. If you do not have Adobe Acrobat Reader, please visit Adobe's website, at this link www.get.adobe.com/reader/, to download your free version.
Last Modified May 17, 2019