The votes are in: P-H-M Education Foundation's 20th Anniversary Gala a success!
Posted on April 28, 2016



The Gala took place Saturday, April 23, 2016 at the Palais Royale Ballroom and PHMEF Executive Director Mari Linn Wise reports, "It was a smashing success!"

Friends of the school district gathered to celebrate the P-H-M Education Foundation's two decades of accomplishments—having a great time and raising even more funds while they were at it!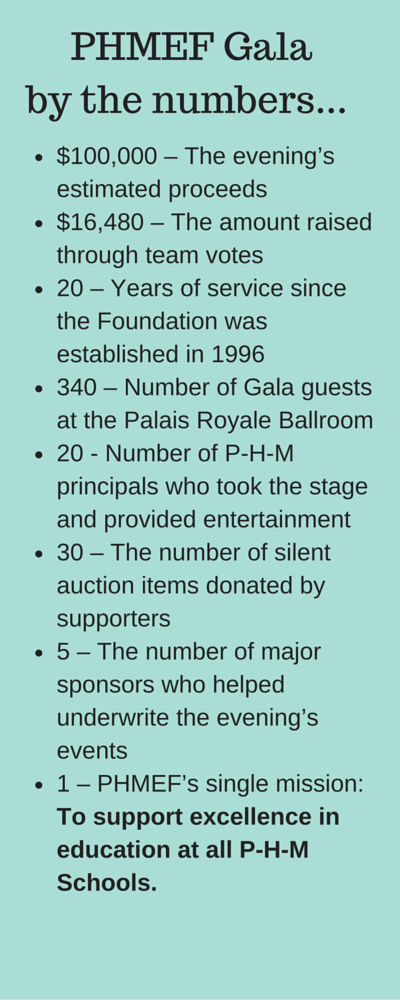 The evening's Roaring 20's theme came through with plenty of glitz and glam. There were "flappers" in headbands and feather boas, and "dappers" in hats and spats. Chairperson Christine Rutherford and her staff of volunteers saw to the many details that made the evening memorable, including black and gold art deco touches, vintage costumes, designer cupcakes, and jazz music provided by Penn High students.
View the full photo gallery here.
The highlight of the evening was the on-stage entertainment provided by teams of principals and assistant principals. Wise says, "PHMEF asked our principals and assistant principals to step outside their comfort zone to raise funds for our students by performing. P-H-M is so fortunate to have such caring administrators who want to raise funds for our students. Our winning Team Five closed out the night with a standing-ovation performance. Congratulations to all of the teams!"
Many parents, friends, staff members and community members who did not attend the Gala still supported it by casting $10 votes for their favorite teams of principals and assistant principals. On top of that giving, came a vote matching offer from Gary Fox for Crowe Horwath. He pledged to match each $10 vote, up to 100 votes for each team!
Here's the final tally, including Mr. Fox's generous support:
Team 1 – 122 votes (Penn High)
Team 2 – 217 votes (Horizon, Northpoint, P Vista)
Team 3 – 437 votes (Elsie, W Disney, Meadow's, Bittersweet, Madison)
Team 4 – 223 votes (DMS, GMS, SMS)
Team 5 – 451 votes (Mary Frank, Elm Road, Moran)
Team 6 – 198 votes (Wildcard: Mr. Kauffman!)
Total votes – 1,648
$16,480 was raised for P-H-M students and programs through votes alone!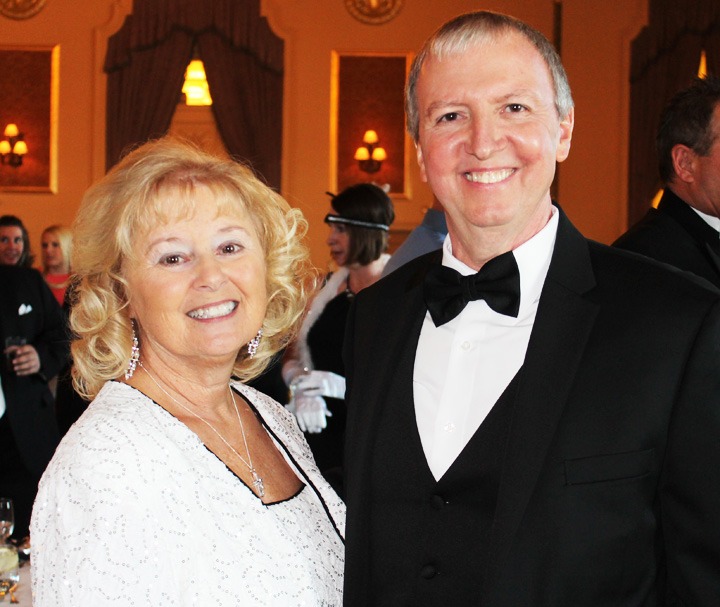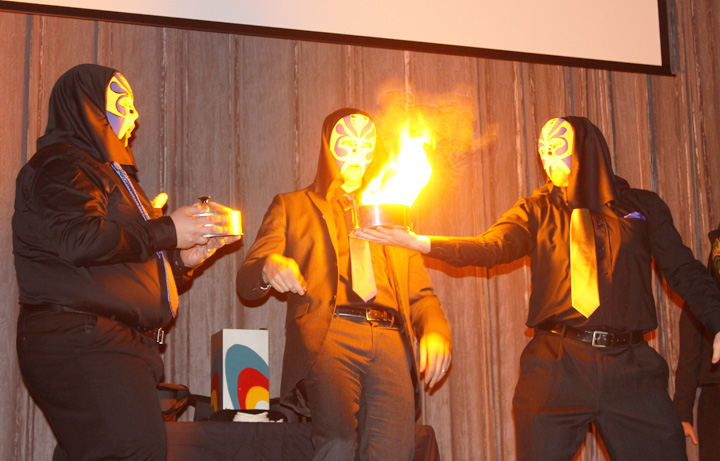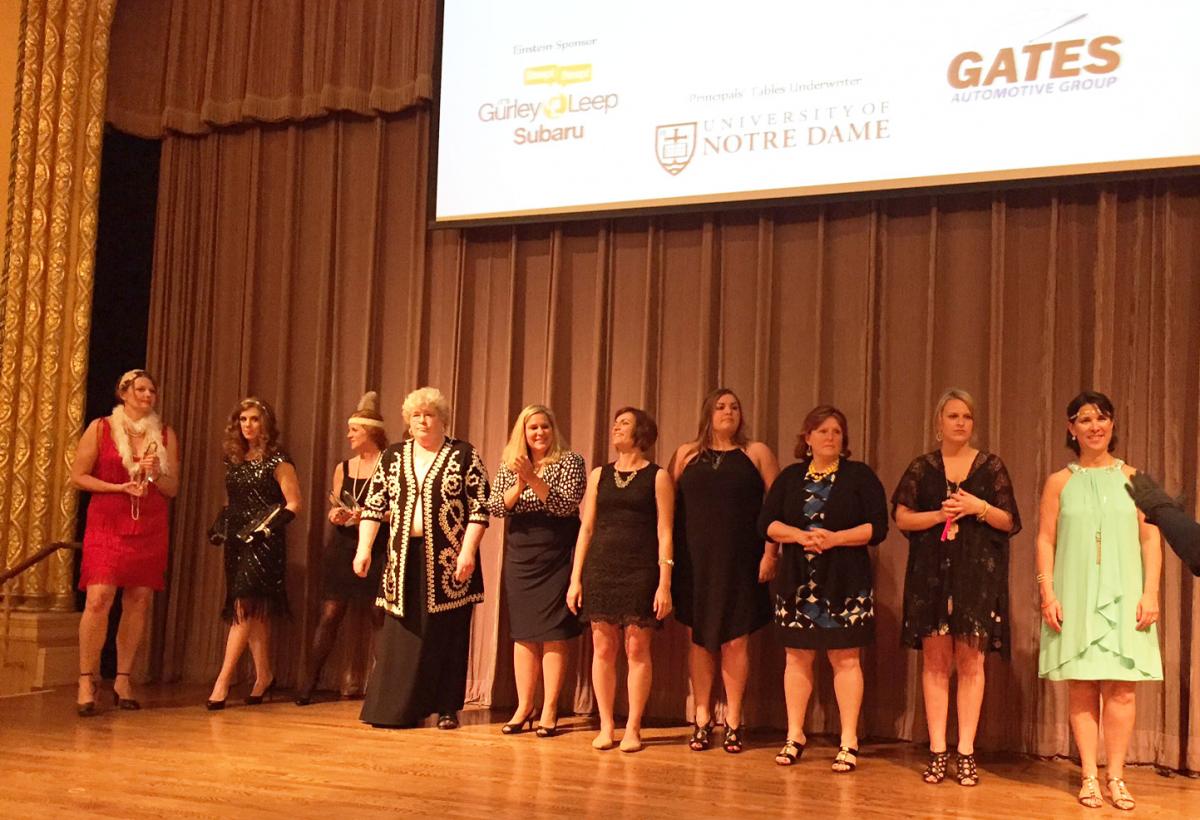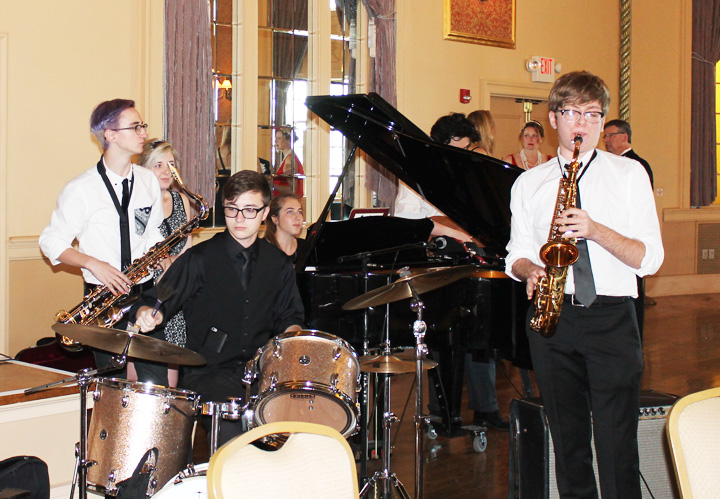 Thousands of dollars in additional funds were raised through a silent auction conducted through online bidding, as well as live bidding to support the Summer Visual Arts Academy, and live bidding to underwrite PHMEF direct classroom grants.
"I am overwhelmed by the support and generosity of the P-H-M community," Wise states. "Our 20th Anniversary Gala was the first sit-down dinner in the Foundation's history and it proved to be such a success. It was a night of fun and entertainment while raising much needed funds for our students."
She continues, "Many thanks to the gala chair, Christine Rutherford, to the principals and assistant principals who showcased their talents, and to our families for their continued support."
The Foundation Board expresses special thanks to these five underwriters: Gurley Leep Subaru, University of Notre Dame, Crowe Horwath, Jim and Julie Schwartz, and Gates Automotive Group.
---
---
Last Modified May 17, 2019