Take the Speak Up survey – because your opinion counts!
Posted on October 5, 2015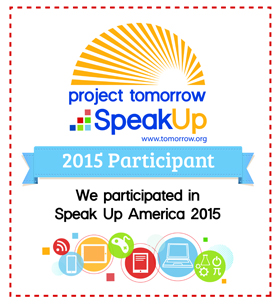 Speak Up is a national research initiative that seeks to gather widespread input on the topic of educational technology.
Each fall the Speak Up survey is posted online so students, parents, teachers, school staff, and the general public can share their views on technology in schools.
The Speak Up survey has three primary objectives:
To provide a means for local schools and districts to easily and effectively listen to and act upon the ideas of their stakeholders
To provide a conduit for the voices of education stakeholders, most notably students, to inform national and state policies and programs
To stimulate new local discussions around the use of technology within education.
Survey results are typically released in February, and are important to those who shape educational policy, direct school finance, create curriculum, and implement technology in our schools.
Penn-Harris-Madison participates in the survey in part because we are recipients of a Digital Learning Grant that helps to fund our technology.
Another reason we support Speak Up is because the results can be helpful in the development of our formal technology plans. Each P-H-M school develops and follows a 3-year technology plan that outlines its goals for educational technology and directs how resources may be spent to achieve those goals.
Here's a link to learn more about the SPEAK UP survey and the agency that conducts the research, Project Tomorrow. Get answers to Frequently Asked Questions about Speak Up here.
Or, you may want to just jump right in and take the survey!
The survey takes 15-20 minutes to complete and you will not need to create an account. The survey will be open until December 18 and the link on this webpage will remain active until then.
P-H-M staff and students will have opportunities to take their version of the Speak Up survey at school / at work through arrangements made in the coming weeks.
Last Modified May 17, 2019